APPRENTICESHIP PROGRAM
Apprenticeship Program applications will be accepted at our office 20-22 Fourth Street Rochester, New York, 14609 from 9 a.m. to 12 p.m. on the following Thursdays of each month:
October 6, 2017 April 5, 2018
November 3, 2017 May 3, 2018
December 1, 2017 June 7, 2018
January 5, 2018 July 5, 2018
February 1, 2018 August 2, 2018
March 1, 2018 September 6, 2018
Apprenticeship Program Requirements:
At least 18 years of age
Must be in good health
Must be a U.S. citizen
Must have a high school diploma or GED
Valid NY state drivers license
Must have reliable transportation
Must be able to lift a minimum of 50 pounds consistently
Must pass a non-DOT drug test
If you meet all the requirements, please visit the Union Hall and fillout an application to become an apprentice. If you're accepted into the apprenticeship program, you must bring the following items to the Union Hall:
Driver license
Social security card or birth certificate
Dollar amount (cash, check or money order ONLY) call the office at (585) 454-5800 for exact amount
If applicable, you will need to supply the Laborers' Welfare Fund Office with copies of the following:
Marriage License
Wife's birth Certificate and Social Security Card
Children's Birth Certificate and Social Security Card
Members can no longer change their address over the phone.
Apprentices become journeymen once they have completed 288 classroom hours and 4000 man hours.
Contact:
Phone: (585) 546-8460
Office Hours:
Monday - Friday 8am-4:30pm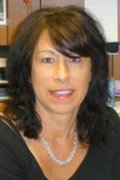 Lori Sheldon