About Us
Local 435
Proactive in Rochester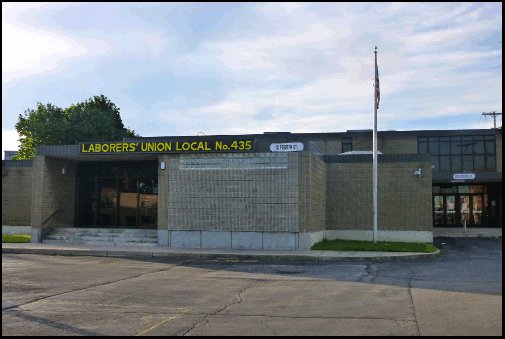 Since first receiving its charter on June 20, 1918, Local 435 in Rochester, NY has helped create and maintain one of the elaborate highway systems in the state; the "Can of Worms". From the beginning of excavation work to the final topping of the roadway, laborers worked steadily on this project. Local 435 covers 9 counties, Genesee, Livingston, Monroe, Ontario, Orleans, Seneca, Wayne, Wyoming and Yates.
Local 435 has been involved in projects designed to provide the community with electrical power and clean water. Two examples of this were the participation in building the Ginna Nuclear Power Plant in 1967, and the Van Lare Sewage Plant in 1971. Despite working at a near frantic pace, Local 435 members surpassed the rigorous standards of a nuclear project. More than 150 members built the Van Lare wastewater treatment plant, which provides sewage treatment services to the community of Rochester.
In addition to promoting infrastructure development in the Rochester area, Local 435 leaders have adopted a proactive approach to resolve the competitive bidding wars frequently seen on big projects.
Community volunteer programs, voter registration drives, and the education of potential members through the Rochester Careers in Construction Corps also keep Local 435 members focused on a shared progressive vision.
Becoming a Member
You must bring the following items with you to the Laborer's Union Hall for Initation: Driver License Social Security Car or Birth Certificate Dollar Amount (Cash or Money Order ONLY) Call Bonnie (585) 454-5800, ext. 300 or Cheryl (585) 454-5800, ext. 301.

Job Referral Guidelines
JOB REFERRAL GUIDELINES FOR: Laborers' Local 435 Requirements and Review Process Each Local Union in the United States shall adopt written referral rules conforming to the revised Job Referral Guidelines, set forth below.

Journeyman & Apprentice Guidelines
Journeyman Initiation $500.00 plus dues for the quarter they're coming in on. Journeyman Re-Initiation Back dues plus fee for each month not paid.  If they are out over 1 year follow the Initiation Guidelines. Apprentice Initiation $100.00 plus dues they're coming in on.

Out of Work List Guidelines
All members must call in and update their names on te Out of Work List every 14 days. The computer automatically removes your name from the list after the 14th day.

Page Last Updated: Feb 01, 2018 (05:01:00)